Service - Network cabling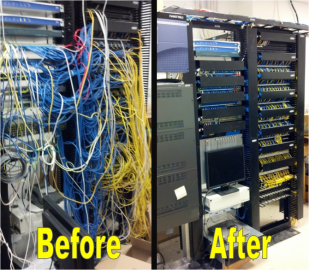 Network cabling
Installing network cable can be a challenging task. Let our experts set up your network properly from start to finish. The performance of your network infrastructure depends not only on the quality of its components, but on the quality of network cabling installation.
The cleanup of messy cable or data room is our specialty. If the data cables, switching and equipment racking in your data room is cluttered and confusing, we can help sort this out. Many data rooms are complicated by upgrades or changes over time, leading to downtime or expensive fixes.
If you are planning to extend the LAN to a new building or other underground applications, General Technologies can provide directional drilling and hydro-vac services.
Convergence of Voice and Data networks is difficult to get right. We have the experience to ensure optimal performance of both voice and data traffic on your corporate LAN. If the quality of your voice or data is lacking, contact us for a no obligation assessment to find out what may be causing bottlenecks. Many new phone systems are IP ready, but is your network capable of handling the traffic? We can help you find out.
The installation of wireless access points (APs) requires careful planning to ensure adequate coverage. We often get called in to look at wireless implementations that did not have the required density or used inferior equipment, leading to issues with connectivity or poor bandwidth. Many of these issues could have been avoided without much extra effort up front, contact us if you are considering wireless upgrades.
General Technologies - Has been providing customer centric network cabling since its inception.
Syndication
General Technologies offers full service structured cabling using certified and licensed technicians. End to end, we design and install data cabling using quality components and skilled / experienced resources that get the job done.
As an outsourced accountancy firm, we understand the importance of focusing on core competencies. So, when it came to our IT systems, we were more than willing to find a qualified company to handle it for us. Since we didn't have the need for a full-time person, General Technologies was a perfect fit. They reduce so much of the administrative headache of running a business because they fix problems quickly and efficiently and maintain our network so that we have fewer issues. The peace of mind we have as a result of their work is something I would recommend to anyone!

Amit Tiwari
Managing Director